Graduate Mentees of the ARUA Centre of Excellence for Unemployment and Skills Development share PhD Experiences.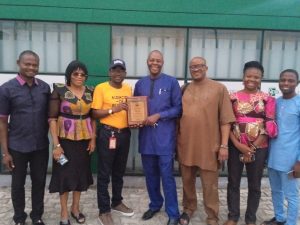 Thursday 20th of January, 2022 began like an ordinary day with a cool weather and friendly temperature that was characteristic of University of Lagos in January. In a short while as the day broke, students who has just concluded Masters and PhDs began to throng in through the magnificent gate of the university while the security men provided guidance as to where cars other vehicles will be parked and graduands arrived in their colourful gowns. They had looked forward to this day for a couple of years or more. 
It was a memorable day also because five doctoral students and mentees of the ARUA Centre of Excellence for Unemployment and Skills Development were graduating and the university sought to celebrate them among others in the presence of local and global friends and partners of the university. It was not also a coincidence that one of the mentees Ehiorobo, Osa Abraham is being awarded the best doctoral thesis in humanities during the convocation ceremony.
The atmosphere was saturated with mixed feelings of fulfilment and joy for Professor Sunday Adebisi, the Centre Director, Dr. Ayodele Shittu, a centre mentor and the graduating students whose thesis focused on entrepreneurship, unemployment, skills development, strategy, international entrepreneurship, emotional intelligence and other constructs that spoke to the challenges of unemployment and skills development on the African continent. 
Having gone through years of research that sought to create and share knowledge that will support the development of the African youth who will thrive in the global space,  the new academic Doctors (Ehiorobo, Osa Abraham; Adeku Salihu Ohiani; Azeez, Oladele Olayinka; Yinusa, Oyekunle; and Amao-Taiwo, Bukola)  share their research findings, experiences, insights and future outlook as they veer into future endeavors for impact in their respective specialties.