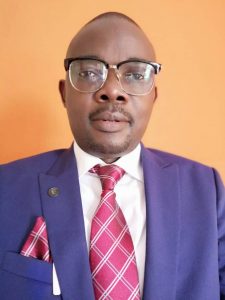 Professor Sunday Abayomi, ADEBISI
Director ARUA-USD, CoE.
Professor Sunday Abayomi Adebisi is a professor of Entrepreneurship Hub and Strategic Management in the Department of Business Administration., University of Lagos, Nigeria.  His research interests span through Entrepreneurship Hub Management, Innovation and Startup Enablement, Youth Sustainable Employment Strategies, Sustainable Strategic Management and Comparative Strategy as well as International Entrepreneurship.
Prof. Sunday Abayomi Adebisi has always been a trailblazer right from his undergraduate days at the University of Ado-Ekiti, Nigeria. He graduated with the prestigious First-Class Honours Division and ranked as the overall best graduating student of class 2001 in his Department as well as Faculty. He was also the 2nd overall Best Graduating Student in the entire University. After his first degree, he proceeded to the University of Ilorin, Ilorin, Nigeria to obtain his Masters Degree in Business Administration and also ranked as the overall best of his set, which automatically earned him PhD admission into the same Department. He finished his Doctoral program in flying colours and was nominated for a National Best PhD Thesis Award to compete with other universities in Nigeria in 2010.
Overtime, he has risen organically through the ranks from the post of a Graduate Assistant to his present status of becoming a double Professor in the Department of Business Administration, University of Lagos. He recently emerged as the First Occupier-Professor of the Dr. Mike Adenuga (Jnr) Professorial Chair in Entrepreneurial Studies, the first of its kind in any Nigerian University and also serves as the Director, Entrepreneurship and Skills Development Centre, University of Lagos, Nigeria. This is in addition to the role he plays as Director, African Research Universities Alliance (ARUA) Centre of Excellence for Unemployment and Skills Development (ARUA, CoE-USD) after winning the hosting right for the centre of excellence, thereby making the University of Lagos to emerge as a Leader and Hub for research in Youth Unemployment and Sustainable Entrepreneurship in Africa.  As a Director of the ARUA-CoE-USD, he was saddled with the task of implementing the Partnership, Research and Capacity Building for Youth Unemployment Solutions in Africa (PRAC-4-YUSA), a UKRI-GCRF ARUA Capacity Building project supported with a Grant of GBP600, 000. The project, almost nearing completion, has made a remarkable impact in creating sustainable solutions to the menace of unemployment on the African continent.  
Professor Sunday Adebisi has led several innovative projects and researches at the local and global stage. He was the Lead Researcher (Rocket Data Star) of the Regional Entrepreneurship Accelerated Program (REAP); an Entrepreneurship project of the University of Lagos in partnership with MIT, United States of America. He also served as Project Manager and Research Advisor  for the $500,000 Commercial Pilot of M(E)thanol Clean Cookstoves Project of the Shell Nigeria Exploration and Production Company (SNEPCo) in Lagos, Nigeria, the first of its kind project in West Africa. He is a Scholar of the Soochow University China, and the 2014 British Academy of Management (BAM) Best Full Paper in Performance Management Award Winner. He also received the Award of the EFMD 2016 Best African Case in Berlin, Germany. In addition to these, Professor Adebisi  has about 50 journal articles in revered academic journals across the world.
Professor Adebisi's passion is to ensure that Africa replicates the Silicon Valley of America to engender sporadic innovation and entrepreneurship development for poverty eradication and economic self-sufficiency. Poised to making the African youth gainfully engaged and productive, he is deliberate and intentional about supporting the youth to develop a changed mind-set that spurs innovativeness, value creation and business development rather than joining the long queue of job seekers. He strongly believes in the university based-entrepreneurship ecosystem as a vibrant fountain for Start-ups that will be capable of growing to become unicorns. He is positive that the businesses that will make Nigeria and African countries to be globally competitive are embedded in university campuses and can be harnessed. This passion of his has made him to drive aggressive collaborations between the university, the private sector and successful entrepreneurs in the local and global community. He is a member of many Professional and Academic bodies: Academy of International Business (AIB) USA; Strategic Management Society (SMS) USA; British Academy of Management (U.K.); The Academy of Management, Nigeria (TAMN); Nigerian Society for Financial Research (NSFR); Nigerian Institute of Management (NIM Chartered); and  National Institute of Marketing of Nigeria (NIMN).
He can be contacted through:
Tel.: +234-802 826 3032; +234 703 273 2296
E-mails: sadebisi@unilag.edu.ng; yommysun@gmail.com