Professor Abimbola Windapo presents Inaugural Lecture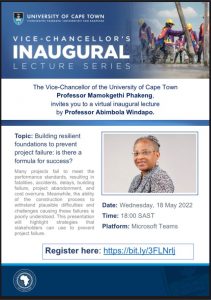 The ARUA Centre of Excellence for Unemployment and Skills Development felicitate with Professor Abimbola Windapo on the occasion of her Inaugural Lecture.
Professor Abimbola Windapo is the first female professor of construction management at the University of Capetown, South Africa. She is also the ARUA, CoE-USD Spoke Lead, South Africa.
She will be presenting an inaugural lecture as part of the University of Capetown Vice-Chancellor's Inaugural Lecture series.
Slated for Wednesday, 18 May 2022, her lecture,  titled "Building resilient foundations to prevent project failure: is there a formula for success?" will highlight strategies that stakeholders can use to prevent project failure.
 Date: Wednesday, 18 May 2022
Time: 18:00 SAST
Platform: Microsoft Teams live event
Please register here to join.